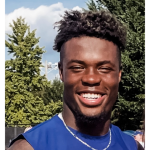 Kurzbeschreibung
I am a junior at Shorter University in Rome, Georgia majoring in Criminal Justice. I play strong safety and wear number 14.
Beschreibung
I have a unique story that could have ended in a much different way. I lost my mother at the end of my freshman year of high school and had plenty of opportunities to take the wrong path which is what most expected. However, I clung to my love of football and found strength in my team and coaches. I have maintained at least a 3.2 gpa in college and receive the Georgia Hope Scholarship. I work hard. I play hard. I study hard. I pride myself in being a role model for kids in my hometown. I believe in the power of positivity and you get ahead by working hard.
Unser idealer Sponsor
I have a great smile. I also have great style and would love to have a clothing sponsor. I am also studying to be a game warden so I love the outdoors and would welcome any sponsors in the outdoors industry.
Größte Erfolge
Graduating high school with a 3.1 gpa
Receiving a football scholarship for college
Buying my own truck
Kennzahlen für Sponsoren
My personal instagram has 1531 followers
Shorter football instagram has 1291 followers
The official Shorter Athletic instagram has 2517 followers
Fancybox.bind("[data-fancybox]", { // Your custom options });