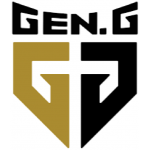 Kurzbeschreibung
We are Gen.G, a professional esports organization founded in 2017. Based in U.S., Korea and China, Gen.G is the only major organization that operates in the world's leading esports markets.
Beschreibung
Established in 2017, Gen.G is the leading esports organization connecting the U.S. and Asia. Ranked #6 in the 2020 Forbes list of the world's most valuable esports companies, Gen.G is the only major organization that owns and operates top teams in the world's leading esports markets. Its unique portfolio of teams, winners of 7 global championships to date, includes the Seoul Dynasty franchise of the Overwatch League; 2014 & 2017 League of Legends world champion team in South Korea; the world's top all-female Fortnite team, based in Los Angeles; the NBA 2K League's historic expansion franchise in Shanghai; and top ranked teams in CSGO, PUBG, and Valorant.
Gen.G's core mission is to help fans and athletes use the power of gaming and esports to get ahead in and beyond the competition. The company has quickly become a commercial and thought leader, building a global, inclusive, and cross-cultural future for sports entertainment. Its widely acclaimed initiatives include: #TeamBumble, the leading team platform for the empowerment of women in gaming; and Gen.G Global Academy, the world's first fully-integrated academic esports program. Gen.G's teams, content creators, and corporate staff work out of their offices in Los Angeles, Seoul, and Shanghai.
Fancybox.bind("[data-fancybox]", { // Your custom options });