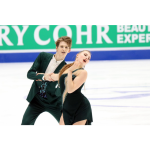 Kurzbeschreibung
We are professional figure skaters. We have become Ukrainian champions and multiple winners of international competitions.
Beschreibung
My name is Kyryl Bielobrov, and I'm a 21-year-old professional figure skater from Ukraine.Since more than 10 years, my partner, MariiaHolubtsova, and I, have been fully committed to reaching our goal of representing our country on the international stage and competing at the upcoming 2026 Winter Olympic Games.
Thanks to our hard work and dedication, we have been able to achieve some great resultsthroughout our careers and are now ranked number 1 ice dance team in Ukraine.
A few months ago, our lives were turned upside down due to the Russian invasion of Ukraine;we were forced to flee from our homes and country, therefore losing our ability to train and prepare for the upcoming season.
In hopes of representing Ukraine on the international stage in the upcoming 2022-2023 season, we have settled in Montreal, Canada, to train at the Ice Academy of Montreal (IAM), the most world-renowned school, home to the top teams from all across the globe, including the 2018 and 2022 Olympic Champions.
In such dire and uncertain times, away from our homes and families, and with the loss of funding from our sports federation, we are seeking financial support to pay for our training.
In return, we will be happy to put your organization's logo on our uniforms. Figure skating is a quite popular sport, with hundreds of thousands of people watching our competitions live and millions of others who watch the recordings. We would also be glad to mention your support in any media or public speaking opportunity.
We are grateful for your support.
Mariia & Kyryl
Verwendungszweck
The minimal cost of training in the Ice Academy of Montreal for a couple is 4000 CAD a month. We will be training there 11 month a year.
Reichweiten / Links
Größte Erfolge
2020 We have become Junior Ukrainian Champions
2020 We managed to qualify for the Free Dance at World Junior Figure Skating Championship
2021 We took 2-nd place at Senior Ukrainian Championship
2022 We managed to qualify for the Free Dance at Europian Figure Skating Championship
Kennzahlen für Sponsoren
Thousands of people visit the competition event
Hundreds of thousands of people watch competition live
Millions of people watch competition later in recording
According to ISU (International skating union) rules we can put sponsors logo on our uniform.
Fancybox.bind("[data-fancybox]", { // Your custom options });