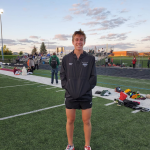 Kurzbeschreibung
Mid-distance athlete with PR's in 800m (2:05) and 400m (54.00). I currently have a sponsorship with The Recovery Room out of Miamisburg, OH
Beschreibung
I am currently a high school senior looking to run in college. I have a great social media platform, with most of my followers being athletes themselves and people who are willing to purchase products. I bring loyalty, creativity, new ideas and lots more to the table.
Unser idealer Sponsor
My ideal sponsorship would be with a nutrition/supplement company or an athletic improvement company. For nutrition/supplements, a company that offers food like energy bars or something of that sort would be awesome, but it is not limited to that. For athletic improvement, I would love to partner with a company that has tools to help athletes recovery and helps them prevent injury. This is the type of company that I have a partnership with right now. Another ideal sponsorship would be a running store or company who could help me get new shoes, spikes and running gear to help me perform at my best.
Verwendungszweck
Whatever sponsorship I acquire, I would use this partnership to help my athletic performance. I would post about this company and show how much they do to help my athletic performance. In return, my hope would be that people see what this company does for me and how it helps me perform, and then people would buy their goods or services in hope that it would help them perform better.
Reichweiten / Links
Größte Erfolge
All High School -
On Varsity Roster all 4 years for Cross Country
Districts Qualifier all 4 years for Cross Country
2020 - Second Team All-League SWBL for Cross Country
2021 -
2nd Place in the 800m Run (2:07) at League
1st Place in the 4x400m Relay at League
Districts Finals Qualifier
Part of the most successful team for our High School Cross Country Team in 30+ years
Multiple Scholarship offers from Colleges
Districts Finals Time of 2:05.57 in the 800m
Kennzahlen für Sponsoren
Some key figures for sponsors would be ideas that relate close to mine. These would include a company who is always looking to be better and are never content with just being average. I always want to improve, both my athletic performance and my personal health. I also want a company who is personal. A company who has employees who are willing to help new people with what would be best for their bodies and their goals. A company who is able to help me with both is a company I would want to work with.
Fancybox.bind("[data-fancybox]", { // Your custom options });