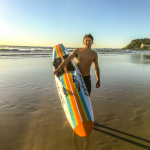 Kurzbeschreibung
Semi-professional Surf Lifesaving athlete located In Queensland, Gold Coast. I offer brand exposure through television and craft stickers. I compete for Surfers Paradise Surf Lifesaving Club which is one of the most influential clubs in Australia.
Beschreibung
Dear potential sponsors,
I want to emphasize my passion and dedication in the area of Surf Lifesaving. Throughout my journey, I have consistently demonstrated unwavering commitment, and I have set my sights on achieving the most within my sport. By sponsoring me, you would be investing in a motivated individual who will strive to make a meaningful impact in the field.
Furthermore, my achievements and track record in Surf Lifesaving has laid a solid foundation for success. I have acquired a diverse skill set and accumulated valuable knowledge through my experiences, which include work ethic, and loyalty. These values have not only shaped me as a professional athlete but have also instilled in me the determination to reach new heights.
By sponsoring me, your brand will gain significant exposure and recognition. I am actively involved in social media (Instagram, Facebook, and others), and television coverage across large platforms such as SBS, and nine's wide world of sport, which provide excellent opportunities for exposure and networking. Your support would enable me to leverage these platforms effectively, showcasing your brand to a wider audience and generating positive publicity. I am also committed to acknowledging your sponsorship through various channels, such as social media, events, and publications, ensuring that your brand receives the visibility it deserves.
Furthermore, I strongly believe in the power of collaboration. As your sponsor, I would actively seek opportunities to promote your brand, products, or services through my endeavors. By working together, we can create a mutually beneficial partnership that extends beyond financial support. I am open to exploring innovative ideas and tailor-made strategies to maximize the impact of our collaboration and achieve shared goals.
Lastly, I would like to highlight my strong work ethic, reliability, and professionalism. I understand the importance of meeting deadlines, exceeding expectations, and maintaining a strong reputation. With me as your sponsored individual, you can trust that your investment will be handled with utmost responsibility and integrity.
In conclusion, sponsoring me presents a unique opportunity to align your brand with a passionate and driven individual in a sport that is changing and evolving for the better. By investing in my journey, you will not only contribute to my personal growth but also gain exposure, recognition, and a dedicated partner who will go the extra mile to promote your brand.
Thank you for considering my request for sponsorship. I am eagerly looking forward to discussing this opportunity further and exploring the ways in which we can collaborate to achieve greatness together. Please do not hesitate to reach out to me if you require any additional information or have any questions.
Reichweiten / Links
Kennzahlen für Sponsoren
Our association (Surfers Surflifesaving) has 800+ members
The age range of the members starts as low as 6 and onto masters who compete into their late age
My club and Beach attract 3 million people, from all over the world
My Instagram has 2200+ followers with an average of 500+ likes on each post
By Sponsoring me you will be able to showcase your brand while I am racing on SBS and Television
My connection to professional photographers allows me to create engaging exposure to the community
Sponsoren
Fancybox.bind("[data-fancybox]", { // Your custom options });