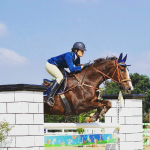 Kurzbeschreibung
I am an Equestrian that competes in showjumping & dressage , with 25 years of experience. I am a passionate, goal driven & dedicated rider that work towards my goals.
Beschreibung
My competitive riding career started at the age of 9 where I excelled in a variety of disciplined including show jumping, dressage, showing, equitation and eventing. I have represented the Mpumalanga provincial team 9 times since the age of 12 on 6 different horses across 4 disciplines (show jumping, dressage, showing and equitation.) I competed at an International show held in Swaziland and won the Victor Ludorum for the show at the age of 15.
I was the youngest person to achieve my FEI Level 1 Instructor's course at 18 years old presented by French Instructor Kathy Amos Jacob. I have competed successfully in the Open grades and I have produced over 20 young horses who are competing successfully. I have attending clinics held by a few international riders namely Oliver Lazarus, Jenny Veenstra, Michal v Eck as well as ridden in Belgium with Walter Lelie.
I am a qualified educator with my Honors in Learner Support which I utilize by coaching riders of all ages as well as riders with special needs. I am a passionate coach and my students have competed successfully in SANESA shows as well as graded shows up to 1.20m.
I am currently producing my own young horse, White Waters Omelia's Silver Lining. She is a 5year old warmblood mare that has been bred to be one of the top show jumpers of the future. I am currently being coach by Ian van Schalkwyk and Elena Jankowitz.
Kennzahlen für Sponsoren
I currently have 700+ followers on social media platforms (Instagram and Facebook).
The audience per event is much larger where there are between 1000 and 3500 per event.
Marketing will be done such as branding ( clothing, riding gear, horsebox branding as well as include sponsor's name at sport events when rider is announced.)
I currently have over 200 clientele that I interact with on a weekly basis regarding lessons, training and product sales.
I attend a minimum of one sports event per month and I host clinics every 2-3 months where people attend from all over Gauteng.
There are a minimum of 4 annual events that are livestreamed Nationally and I would love to attend these events and be able to represent the company at these events.
Fancybox.bind("[data-fancybox]", { // Your custom options });