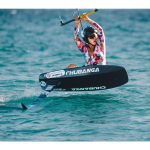 Kurzbeschreibung
Highly ranked Kite surfer for debut Olympic Kite Foil event (race & freestyle) for Paris 2024
Beschreibung
My vision is to compete in the 2024 Olympics in Paris, be the world champion in kite foil freestyle and to use that platform to empower others to be their best selves, unleash hidden potentials and reach their peak performance effectively, while staying within healthy boundaries.
I am a multi-lingual Czech national (7 languages) now based in the Dominican Republic to have access to better facilities and I developed Kelios-coaching, a revolutionary mental training program. I have support from Nigel Smith at TEN10 Sport (nas@ten10sport.com) to search for a partner(s) to achieve my dream journey to become Olympic champion and raise my levels to better compete with the best in the field.
I've self-funded personally to reach this point and overcome a fear of water to now navigating up to 50km/hour on the ocean, so would love to turn this into an inspirational film/ documentary. Ultimately, I back myself to be able to challenge for a top medal in Paris in kite foil racing with a equally strong chance in freestyle.
I am happy to offer exclusive media material from training and competitions, promotion of your products which help me reach peak performance with help of your devices (Mentally - HRV and strategically - GPS).
Presentation of your logo on my equipment, unique podcast or blog content on mental health, peak performance and fears.
Collaboration on a revolutionary approach to peak performance training
Unser idealer Sponsor
OPEN - Any related brand/ company
Performance Tech
Travel
Kite/ foil brand
Fancybox.bind("[data-fancybox]", { // Your custom options });