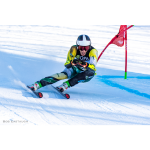 Kurzbeschreibung
Alpine Ski Racer. D1-Athlete at University of Alaska Anchorage. Western Regional Champion in Giant Slalom in 2023. Two-Time All-American (2022 & 2023). Two-time participant at Ski World Championships (2019 & 2023).
Beschreibung
To whom it may concern,
My name is Leon Nikic. I am 23 years old and an alpine ski racer for the Croatian Ski Association. Currently, I am a student in Alaska, thanks to a scholarship I received from the University of Alaska Anchorage, where I am pursuing a Bachelor of Arts in Psychology. However, my actual residence is in Tux, Tyrol, where my family and I have lived since 2010 after relocating from Croatia. In June 2019, I graduated from the Ski Gymnasium in Saalfelden.
As I am on the cusp of making it into the Croatian National Team and my goal is to break through into the World Cup, I would like to respectfully inquire about a sponsorship deal with you through this letter to accompany me on this journey and help me fulfill my dream.
To ensure you don't think I'm all talk, I'd like to highlight some key moments in my career so far:
2017: Silver medal at the EYOF (European Youth Olympic Festival) in Erzurum, Turkey.
2018: First World Cup appearance in Zagreb.
2019: First appearance at a World Championship in Are in the Giant Slalom; first qualification for a second run in the Europa Cup Slalom.
2017 through 2020: Participation in the Junior World Championships.
2020: 39th place in the World Cup Slalom in Zagreb (missed the second run by only +0.49 seconds).
2020/21 season: Out of competition due to a herniated disc.
2021/22: Comeback season - first podiums in the college series, All-American title at the NCAA (National Collegiate Athletic Association) Championships.
2022/23: Top 10 placements in the North American Cup, Western Regional Collegiate Champion in Giant Slalom, Athletic and Academic All-American at the NCAA Championships, and an appearance at the World Championships in Courchevel.
These are just some of the results that have taken place on the big stage.
However, for me personally, other results have been equally if not more important. Whether it was the triple victory in the Giant Slalom in Pfelders, Italy, in 2018 when I was far from being a top contender on the start list, or the season-ending victory in 2018/19 in Bansko, Bulgaria, after a downhill spiral following the Zagreb race, I managed to achieve success even when I felt completely drained.
The reason why such events hold great significance for me is because I am a fighter. You see, many people wrote to congratulate me when I achieved the triple win in Pfelders or when I performed well in the World Cup. But no one wrote to me when I was down, when I saw no way out of the hole I found myself in. I got back up on my own and always walked away with my head held high.
The 2020/21 season was not easy for me either. After a fall at a FIS race in Adelboden on November 30, 2020, I experienced excruciating back pain - unlike anything I had felt before. An initial MRI showed a bulging disc in the lumbar region. I was told to take a three-week break. During that time, while I was in quarantine due to COVID-19, I experienced even worse pain, and the next morning, it seemed like my back was completely fine again. But then numbness in my foot began. The diagnosis, after a second MRI, was a herniated disc and an early end to the 20/21 season.
After the prescribed rest once the surgery was over, I got to work. I continuously worked towards making a comeback for the upcoming season, and it worked out relatively well in the end. I managed to maintain and even improve my FIS points over the 2021/22 season.
This past season (2022/23) marked another step forward. I qualified for the World Championships in Courchevel with my performances and moved up from 765th to 153rd place in the world in Giant Slalom. This positions me at the forefront for the upcoming season, aiming for a permanent spot in the World Cup.
However, next season will be my last in college, and since skiing is quite an expensive endeavor, I am currently seeking new sponsors this year. I would be extremely grateful for your support in continuing to pursue my dream with full force.
I want to thank you in advance for taking the time to consider my request and look forward to hearing from you.
Reichweiten / Links
Kennzahlen für Sponsoren
Instagram: @leonnikic
Followers: 1,856
Reach: 5,000 people
Fancybox.bind("[data-fancybox]", { // Your custom options });