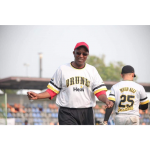 Kurzbeschreibung
International Baseball Coach Seeking Sponsor
Beschreibung
American Marvin Moore will travel to the Kingdom of Bhutan in May 2022 to implement a national youth baseball development program, and to train the national baseball teams. He is seeking a sponsor to promote in YouTube videos and other social media channels.
Marvin and his wife, Lerma, will produce videos of their daily lives in Bhutan that will be promoted on their YouTube channel - Baseball in the Himalayas - as well as Twitter, TikTok, Facebook, Instagram, and at the Baseball in the Himalayas website - https://www.baseballinthehimalayas.com.
The videos will feature Bhutanese food outings, Himalayan hiking trips, Bhutan tourist attractions, Nepal/India/Tibet travel excursions, Bhutan baseball games, and much more!
Sponsor t-shirt will get thousands of exposures in New York Times feature article (Baseball in Bhutan), Baseball in Bhutan documentary (ESPN, Netflix or Amazon Prime), Baseball in the Himalayas social media channels - YouTube, Twitter, Facebook, TikTok, Instagram.
Unser idealer Sponsor
Popular baseball brand. Marvin can make interesting campaigns on social media (Facebook, Youtube, Twitter, and TikTok) promoting sponsor. Marvin will also promote sponsor in all press release photos.
Reichweiten / Links
Größte Erfolge
Won four national titles in Switzerland
Won Gold at 2019 Masters Tourney in Brunei
Kennzahlen für Sponsoren
Marvin will be active in social media (Facebook, Youtube, Twitter, TikTok).
Marvin will promote such values as Sportsmanship, Teamwork, Friendships, and Hard Work.
Marvin will wear brand sponsor in all social media photos and videos.
Marvin will make videos in Bhutan, India, Nepal, Thailand, and Tibet.
By sponsoring Marvin, you can reach a clientele with an affinity for sport and active & healthy lifestyle