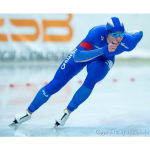 Kurzbeschreibung
I'm part of the Circolo Pattinatori Pinè & train with the national team. I achieved podiums in the World Cup & at the Italian Championships
Beschreibung
Ice speed skating is a sport in continuous growth on the world and in the Italian scene, especially considering the next Winter Olympics to be held in Italy. This year I was the only new athlete recruited to be part of the senior national team. In recent years I have already achieved significant results at junior level by scoring 3 podiums out of 3 at the Italian junior championships last year and a fifth and sixth place at the absolute level (in this case as first amongst the juniors). I participated at 3 U23 World Cups for the first time. I achieved 3 podiums (a gold and two bronzes) on single distances and a gold and a fourth place in the general classification. In addition to these more relevant results I have been amongst the top 10 several times, practically never finishing below the top 15. this season I reach the 2nd place at the national championships at the mass start. Next year I aim to improve myself again by taking part in world cups of absolute category as well as U23 and then be able to qualify for the 2026 Olympics. As a result, I have been mentioned in the media for several times and even had a TV interview.
During the Rai live broadcast of the European Championships, I was declared as a promising young man to keep an eye on for the next few years.
Verwendungszweck
improve my preparation to be able to continue competing with the best athletes in the world
Reichweiten / Links
Größte Erfolge
first place in the overall ranking of the U23 World Cup season 2021-22 in the discipline of mass start
vice-italian champion mass start 2023
Kennzahlen für Sponsoren
+700 followers on instagram and facebook with up to 12.6 thousand post views
various articles in the newspapers "Adige" and "Trentino"
personal interview with TrentinoTV
national and international audience at competitions
worldwide streaming of competitions
Sprachen
Dieses Profil ist in den folgenden Sprachen verfügbar:
Fancybox.bind("[data-fancybox]", { // Your custom options });