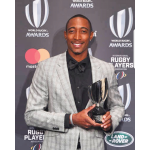 Kurzbeschreibung
I am a Pro Rugby player for Team USA 7's and have been playing for 6 years. My goal is to bring home the Gold at the Tokyo Olympics 2021!
Beschreibung
My peers and teammates tend to describe me as being passionate, charismatic, with lots of positive energy. Most people know and recognize me as one of the fastest Rugby 7's players in the world. I was the first USA 7's player to ever be nominated for HSBC World Rugby 7's Player of the Year. I won the award back to back in 2017 and 2018. In 2016 and 2017 I was part of the HSBC World Sevens Series Dream Team. I was also top try scorer on the series in 2017 with 57 tries. Two years ago, I started hosting Rugby camps, in the San Diego, California area. Working with our youth and aspiring upcoming Rugby players is a true passion of mine. I enjoy giving back to the sport and want to eventually host these camps worldwide. My goal is to help grow the game of 7's to the respected levels of other countries. I believe partnering with companies can help bring awareness to the sport of rugby so when I partner with sponsors I make sure to give the same effort and dedication that I have on the field.
Unser idealer Sponsor
I'm open to all sponsorships however I believe the ones that work best and are the most authentic is when we take the time to build a partnership and get to know one another. If I truly believe in your product or what your company stands for it will make the relationship between us genuine and strong therefore, the content in which we are producing will be that much better.
Reichweiten / Links
Größte Erfolge
Being 2x HSBC World Rugby Sevens Player of The Year has definitely been my career highlight for 2 reasons. When I did it no other USA player had ever even been nominated and when I won it the 2nd time, no player had ever won twice.
2020 Guinness Book Of World Records "Most Clean Line Breaks"
2x HSBC World Rugby Sevens Dream Team
2017 HSBC World Series Top Try Scorer
Kennzahlen für Sponsoren
I am an open book when it comes to partnering and sponsorships. I'm always willing to hear and or pitch ideas that I may have that would benefit the both of us. My social media following on Instagram is about 82K and the followers that are all over the world. I'm very flexible when it comes to representing a company so I do what I can to make sure we build/have a solid partnership. I'm open to social media post/videos, commercials, appearances, etc…
Sponsoren
Fancybox.bind("[data-fancybox]", { // Your custom options });