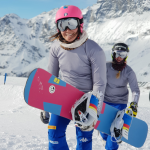 Kurzbeschreibung
Professional Snowboarder / World Champion / Italian Champion / European Champion
Beschreibung
Raffaella Brutto starts skiing at the age of two, and at the age of 7 she starts snowboarding.
In 1999 she began competing at the regional level with excellent placings and first places. In 2001 in the snowboard cross and parallel giant specialty she won both the Italian Championships and the International Pinocchio in the juniores category.
Until 2004 she practiced artistic roller skating at a competitive level, finishing third at the European Championships in 2002 in Scanno in the special dance category, together with Matteo Fraschini, and winning the 2003 European Cup in Freiburg in the Solo Dance specialty.
Since 2004 she has been called to participate in the World Junior Championships of Boardercross in Germany and, immediately after, in the final of the Snowboard World Cup in Bardonecchia where, due to an injury, in training, she could not compete.
In 2006 she actually entered the National team as an athlete of the European Cup Group and participated in two World Cup races.
In 2007 she participated in the World Championships in Arosa as the only Italian in boardercross reaching the position 27th. Wins the podium finishing third place at the XXIII Turin Winter Universiade. She took second place in the only European Cup race in which she participated and won the title as Italian champion's Colere both absolute and junior.
In 2010 she was the only Italian snowboard cross qualified athlete for the XXI Vancouver 2010 Winter Olympic Games where she won a 17th place on the Cypress Mountain track.
In 2011 she participates in World Cup races with excellent placements, in January she participates in the World Championships in La Molina, Spain, and manages to conquer the eighth place despite the rupture of the anterior cruciate ligament
In 2012 after the knee operation she resumed his competitive activity with participation in races in the White Circus, succeeding in obtaining a victory in the European Cup, on the track of Cervinia, and in December she won the first podium in the World Cup at Montafon in Austria , finishing second behind the Canadian Dominique Maltais.
Reichweiten / Links
Größte Erfolge
Winter Universiade - Snowboard Cross
2 third place ( Bardonecchia 2007 e Harbin 2009)
World Championship
10 podiums

2 First place
4 Second place
4 third place
Europe Championship
14 podiums:

7 First place
3 Second place
4 Third place
Victories in Europe championship
2012 Breui l- Cervinia Italia SBX
2012 Cortina d'Ampezzo Italia SBX
2013 Puy St Vincent Francia SBX
2016 Puy St Vincent Francia SBX
2016 Puy St Vincent Francia SBX
2018 Veysonnaz Svizzera SBX
2018 Veysonnaz Svizzera SBX
Italian Championship
Italian Champion of snowboard cross in 2007, 2008, 2009, 2010, 2014 and in 2016.
Italian Champion of BSL (banked slalom) in 2019
Kennzahlen für Sponsoren
Instagram profile with 48K followers and an average of 3K - 4K likes per post
Presence in international newspapers
Presence in sports magazines
TV appearances
Sprachen
Dieses Profil ist in den folgenden Sprachen verfügbar:
Fancybox.bind("[data-fancybox]", { // Your custom options });