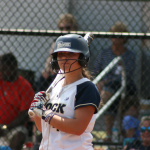 Kurzbeschreibung
A 10th grader at Pennsbury HS who plays softball on the Newtown Rock National team. I'm seeking sponsorships to support my desire to play.
Beschreibung
I am a dedicated and accomplished softball player currently representing the Newtown Rock 16u National team based in Newtown, PA. With a remarkable journey that began at the age of 11, I have consistently competed at an elite level in the sport. As a sophomore at Pennsbury High School within the Pennsbury School District, my passion for softball has driven me to seek sponsorship opportunities to support my pursuit of excellence.
With aspirations to continue playing softball at the collegiate level, I am excited to embark on a season of extensive travel with the Newtown Rock 16u National team. Our itinerary includes prominent tournaments in Clearwater, FL; Atlanta, GA; South Carolina, and the prestigious IDT event in Colorado. These showcases offer a unique platform to showcase my skills to numerous college scouts and recruiters.
Having recently participated in the PGF Nationals as a member of the 14u National team, held in Huntington Beach, California, I am no stranger to national-level competition. My versatility as a player, with experience at both third base and left field, underscores my commitment to contributing to the team's success.
Balancing my athletic pursuits with academic excellence, I have maintained a commendable 3.8 GPA. My dedication to both on-field and academic achievements is evident through my participation in the varsity Pennsbury high school team as a freshman, with plans to continue this tradition in the upcoming season.
Seeking monetary sponsorship for my journey that allows companies to align with a driven and accomplished athlete who is set to make a significant impact on the softball world. With a promising future ahead, I invite potential sponsors to join me in realizing my dreams of college softball success while fostering a strong partnership that reflects dedication, determination, and excellence.
Kennzahlen für Sponsoren
Years of Experience: I have been playing softball since the age of 6 but I have been playing at an elite level since the age of 11.
Current Grade and Graduation Year: I am currently a sophomore at Pennsbury High School and set to graduate in the class of 2026.
GPA: I have a strong academic performance with a 3.8 GPA.
Team Involvement: My fielding roles are as a third baseman and left fielder. I bat within the top 5 in the lineup. I have experience playing on both the Newtown Rock 16u National team and my high school, Pennsbury High School's varsity team.
National Competitions: Participated in prestigious tournaments like the PGF Nationals in Huntington Beach, California; Ohio Outlaws National Invitational Showcase, Pennsbury Invitational Showcase, Triple Crown Nationals in SC just to name a few of this year's upcoming travel schedule to various locations across the USA.
Travel Schedule: 2023 Clearwater Invitational Showcase in Clearwater, FL; 2024 Atlanta Legacy Showcase in Atlanta, GA; TCS East Coast Summer Nationals in South Carolina; and the IDT Invitational in Bolder, Colorado.
Desire for College Softball: My ultimate goal is to take my passion and skill for softball to the collegiate level. I am driven by the desire to continue competing at the highest echelons of the sport while pursuing a higher education. By securing a sponsorship, I aim to demonstrate my unwavering commitment to achieving this goal. Sponsors play a pivotal role in helping athletes like me bridge the gap between high school and college athletics, enabling us to showcase our talents to a wider audience of college scouts and coaches. Your support would not only contribute to my individual growth and success but also solidify your brand's association with nurturing young talent and investing in the future of sports. Together, we can shape the next generation of athletes and make a significant impact on the world of college softball.
Potential Audience Reach: Participating in this season's softball tournaments provides an incredible opportunity for sponsors to gain widespread exposure. With a significant number of college scouts, coaches, and enthusiastic fans attending these tournaments, your brand would be showcased to a captivated and engaged audience. These events draw not only local attention but also national interest due to the high caliber of competition. Imagine your logo prominently displayed on our banner and event materials, capturing the attention of thousands of eyes both in-person and through media coverage (Game Changer). By aligning your brand with my journey and the Newtown Rock 16u National team, you have the chance to make a lasting impression on a diverse demographic that shares a passion for athletics and excellence. Your sponsorship goes beyond supporting my athletic dreams; it's an investment in visibility, community engagement, and the promotion of values like dedication and sportsmanship.
Positive Impact: Partnering with me through sponsorship creates a win-win scenario that benefits both of us. Your support would play a pivotal role in my pursuit of excellence on the softball field, allowing me to access the best training, equipment, and opportunities to excel. Your brand's association with my journey showcases your commitment to fostering young talent and supporting athletes dedicated to pushing their limits. This collaboration provides you with a unique avenue to align your brand with the values of hard work, determination, and achievement. As I strive to reach new heights in my athletic career, your brand will be right alongside, gaining exposure among a dedicated fan base and an array of college scouts and coaches.
Fancybox.bind("[data-fancybox]", { // Your custom options });