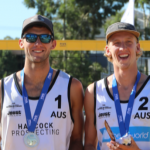 Kurzbeschreibung
Australian Beach Volleyball team living in Holland and competing all over the world. We are hungry to be Olympic Champions while staying humble
Beschreibung
Australian Beach Volleyball Team 
Living in Holland and playing all over the world. Take a look at our social media pages down the bottom.
We love beach volleyball and we believe that we are the team that will take the game to the next level. We aren't just your noraml beach volleyball team. Our game style involves playing with passion and only 2 contacts of the ball, compaired to your normal 3 contacts. This game style is exciting to watch and we are the new age athletes of beach volleyball. We want to be role models to everyone who watches us and inspire people to push the limits of a normal life. As a sponsor you will become part of our family and will be seen by millions of people all over the world. We believe that we can achieve our goals with your support but we can also make your dreams come true at the same time.
Unser idealer Sponsor
We are flexiable with our sponsorship. If you like what we have to offer but want to request something special all you need to do is ask.
Verwendungszweck
Your sponsorship will help us achieve our goals and will also help support our families.
Größte Erfolge
FIVB
Kish Island FIVB World Tour– 5th Place 2017
Shepparton FIVB World Tour—2nd Place 2017
 
Swiss Tour
Germany Tour
Asian Tour
Asian Championships—2nd Place 2016
Yogyakarta Open—1st Place 2016
 
Australian
NSW Open—1st Place 2017
SA Open—1st Place 2017
WA Open—1st Place 2017
 
Kennzahlen für Sponsoren
We both have huge social media followings.
We would use/wear your brand and it would be seen all over the world and on social media.
Cole Instagram - 10,100 followers and Zachery Instagram -9,507 followers. With every post we are seen by over 50,000 people.
Cole Facebook 1000 Followers and Zachery Facebook 700. With every post we are seen by over 20,000 people.
With all this together we reach over 70,000 people. 
FIVB tour- Over 1 million people watch each event and there are 20 event each year.
Playing all over the world so your brand would be in every country.