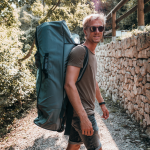 Kurzbeschreibung
Pro Windsurfer | Content creator | Vice German Champion 2016/17/18
Beschreibung
I'm not just a Surferboy who's traveling around the world and living the dream of a Pro Windsurfer! I'm your teamrider, ambassador, testimonial, developer, content creator and influencer.
I started windsurfing when I was six years old. We moved from the southern part of Germany in the northern part and spent every weekend and holidays at the sea. Over the years I improved a lot and started to compete in some local competitions. 

2010 I competed the whole Junior European Freestyle Tour and won the European title.
2013 I got my first big sponsoring contracts and the financial supports to compete in the world- & european tour.
My biggest victories have been Junior European Champion, Windsurfing talent of the year, tripple Vice-German Champion 2016/2017/2018, 15th in the Europeanranking, 26th in the Worldranking.
Early in the stadium I knew that just windsurfing is not the deal to play with. I wanted to increase my name and my sponsors in Newspapers, Magazines, Online, TV, and so on. I started to capture videos, stories and pictures about my trips and experiences. 

Besides that I started to organize the official German Freestyle Windsurfing Tour. 

Over the years I got more into the development, Video/Photoshootings and Online Marketing of my sponsors. I designed my own windsurfing sail "YEAH" with my sponsor Gun Sails.

I became one of the most known Freestyle Windsurfers in the national and international windsurfing scene, became one of the most requested windsurfing filmmaker, my social media channels were crowing and I received more attention then some top guys.
During a Injury back in 2015 I had to break windsurfing for one year and started a PR-Trainee in a sport-communication agency in Hamburg. I finished it and started my own company to offer any kind of digital creative, media & online marketing services.
Besides my watersport career I started with Triathlon in 2018 to push myself to the next level.
Unser idealer Sponsor
A perfect sponsor for me is: a brand who is working togehter with the athletes on new ideas and represent their products in my network and sport scene. Trying to produce new independent content for social media and magazines.
Let's find a simple great solution for both of us!
Reichweiten / Links
Größte Erfolge
U20 European Champion 2010
Windsurf Talent of the year 2010
2nd boot Düsseldorf Tow-In Contest 2019
2nd Kieler Woche Tow-In Contest 2019
15th overall European Freestyle Pro Tour 2018
2nd overall German Freestyle Windsurfing Tour 2016/2017/2018
Winch Worldchampion Kieler Woche 2017
1st Mercedes-Benz Towin Night 2016
3rd abalone videoaward Düsseldorf 2016
26th Worldranking 2014
Kennzahlen für Sponsoren
a "name" in the international windsurfing scene
German Windsurfing Tour-Organizer
Content creator
over 9k Instagram-Followers
over 1.6k Facebook-Fans
creative Media and PR know-how
appearances on stage
Filmmaker & Photographer
Fancybox.bind("[data-fancybox]", { // Your custom options });