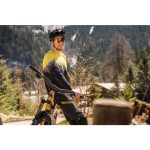 Kurzbeschreibung
Stichpunktartig: Mountainbike Profi und Markenbotschafter. Derzeitige Sponsoren: Santa Cruz Bicycles, Patagonia, Reserve, Fox Suspension, Magura, SQlab, 100%, Park Tool, Ortema https://www.instagram.com/ericson_junker/
Beschreibung
Born 1995. Travelling across Germany and Europe with my mountainbike for over a decade. Back then, as a junior on the passenger seat competing in race after race. Now, I'm chasing new adventures with my custom built van. Along the way I completed an apprenticeship as a technical product designer and a dual degree in industrial engineering.
Since the age of three, two-wheelers have followed me wherever I go. And that's the way it's always going to be. What changes is the focus and the views. Meanwhile, I not only want to get my own added value from everything, but would much rather give something. Here I see different areas as extremely important and try to combine them with my strengths as much as possible.
Anyone who has ever tried to build something bigger solo has noticed that they quickly reach their limits. And instead of a one-man show, it makes much more sense to connect with people who share your values and have similar visions.​
To me, sponsorship doesn't mean having as many sponsors as possible. For me, it means much more supporting each other with your strengths and enabling synergy effects. My values in a partnership are loyalty, authenticity and an honest cooperation. I want to stand 100% behind the sponsors and be convinced of the cooperation as well as the product it is about.​
It's rare that I find my own values reflected in the values of a company. In recent years, I have sometimes made comprimises when it comes to the brands I have worn. When I was younger, sponsorships were the only way to fund my adventures. Now, things have changed. Through Julia, I have learned that it is important to stand up for my own values. To be clear in what I want and what I stand for. Julia, for example, dealt with consumption in a completely different way. She did not understand that I was newly equipped every year by the sponsors, since everything was still in perfect condition. She herself wore many of her clothes over 10 years and had them sewn again and again, and looked at me funny when I gave her a pair of mountain bike pants, saying, "My climbing pants worked, too." We now meet in the middle and learn together- because let's face it- there is still really a lot to learn. ​
I would love to get the values out there more with a company that is also trying to evolve.​
Next year I don't want to support and wear a clothing sponsor that doesn't pay attention or at least tries to produce sustainably and adds value in other areas besides consumption.​
Together with Julia I want to create special moments, inspire others with it and trigger a subconscious rethinking but also stay authentic and never point the finger at others. Julia's words on this: Hey you can't change the behavior of others, but you can change your own behavior and always be a role model for others, but that takes courage, honesty and belief in yourself.​
I want to have an open exchange about my passion of mountain biking, about sustainability, about visions & ideas and create real added value.​
So more than friendship.​
Fancybox.bind("[data-fancybox]", { // Your custom options });